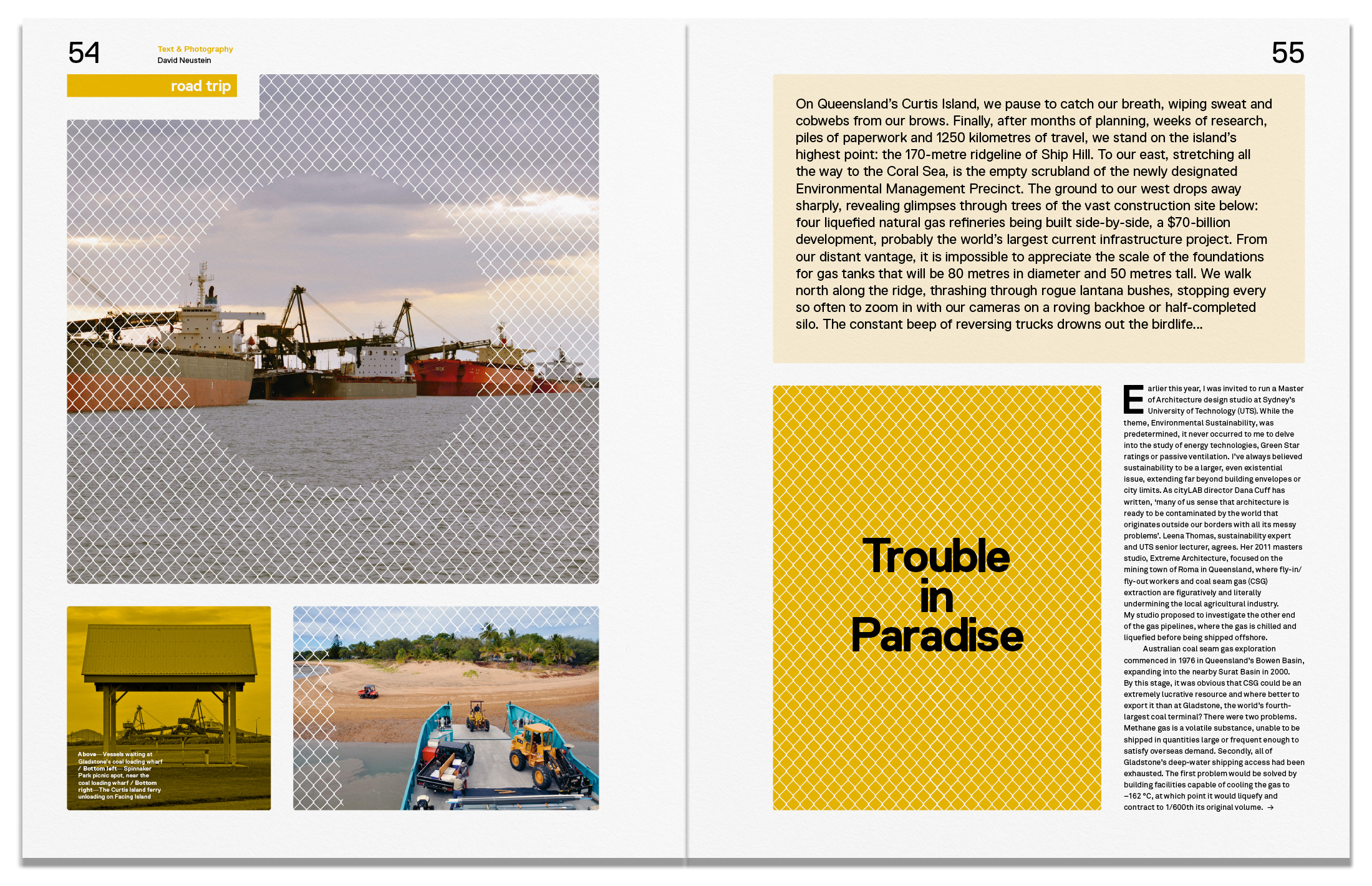 ︎︎︎ Alternative versions of covers produced as if under the direction of James Maude Richards, influential editor of the UK edition from 1937 to 1971.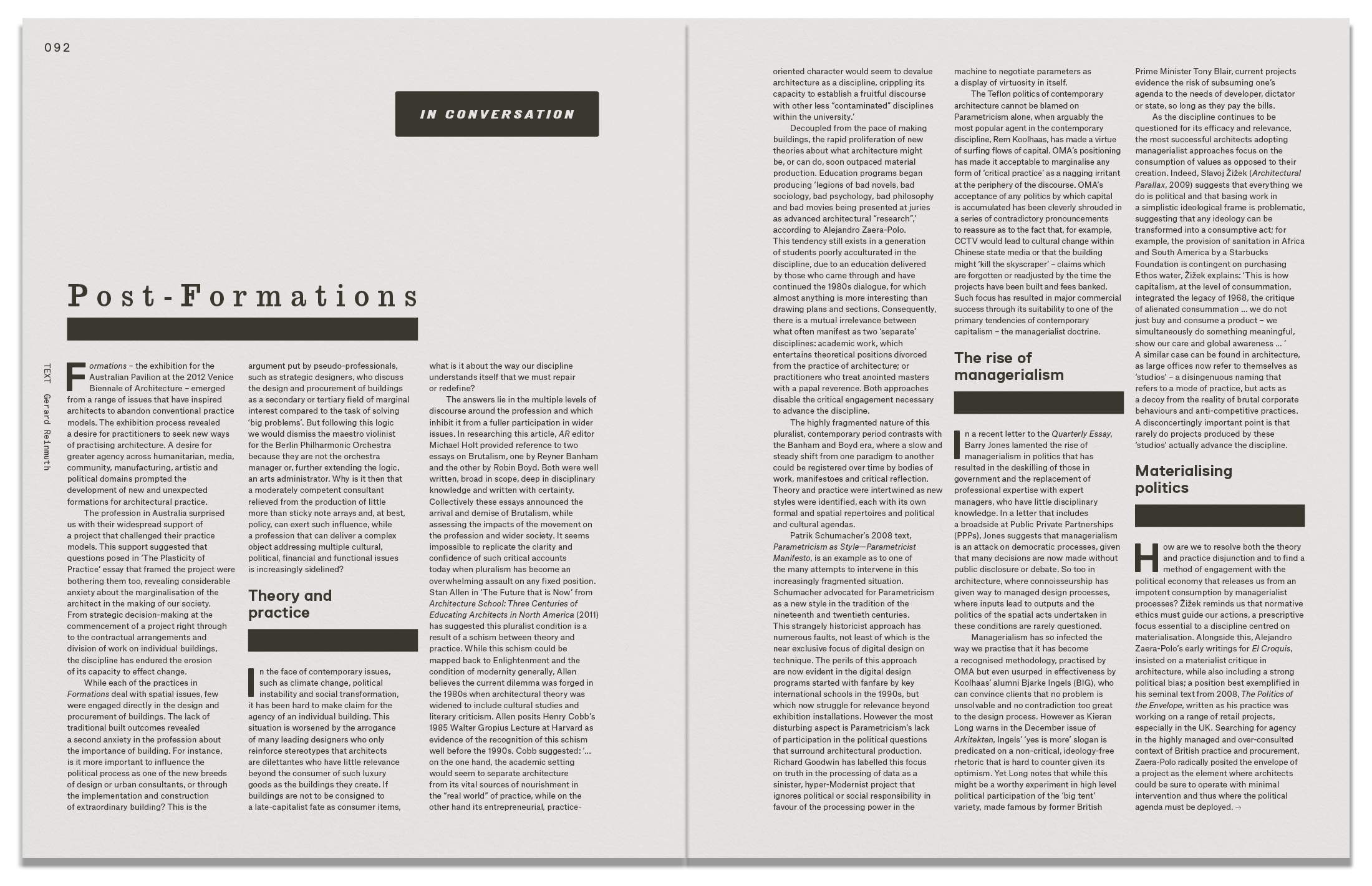 ︎Architectural Review Asia Pacific, issues 124–130
In 2011 I was fortunate enough to land a role as lead designer for Melbourne-based publisher, (niche:) media's architectural titles and events. This included design and direction for the Asia Pacific edition of Architectural Review and (inside) Interior Design Review
[︎︎︎more about this title here]
as well as the IDEA Awards scheme. During this time I was fortunate to work with a number of amazing editors and contributors including Simon Sellars, Leanne Amodeo, Alexa Kempton and Maitiú Ward.
Although the relationship between long established U.K. publication (first published in 1896) and this Australian made edition was never explicit, I wanted to treat the title with a similar reverence (As an aside: I had worked on the U.K. edition's website under the direction of Violetta Boxill a few years prior to this).


Legacy
Art Director Sabine Selbach had only recently set the tone for a relaunched version of the title by refreshing layouts and paper stock. She also introduced LL Replica as the lead typeface as well as drawing a fresh brandmark/masthead for the title based on LL Akkurat.
After researching chosen typefaces and flicking through screenshots of the original specimens I quickly realised there was a very strict underlying grid to LL Replica that not only related to the content of the title (with its rigorously documented structural details) but could also be used to give physical pages and layouts a similar rigorous underlying structure.
I made note of the size of the angles sliced out of the corners of the terminals in proportion to the letterform's body and started to use similar measures on the page grids. Where previously type was set based on page dimensions or left to float along horizontal guides, now any object positioned within the page had to adhere to a grid set by the typeface and its construction details. Even images were given the same subtly sliced off corners as was an identifying feature of the letterforms.


Evolving the title
Over the course of five issues (one year) different body copy typefaces were trialed before settling on Atlas Grotesk as a similarly formal complement to Replica. By the end of my tenure the title had a new editor and a shift in focus that linked even closer to the U.K. edition and a raft of typefaces from The Architectural Review's heyday under the guidance of editor/art director James Maude Richards were bought in alongside Atlas & Replica.
The title would continue with art director Samuel Szwarcbord employing a direction that felt like a clean sweep for the title, whilst maintaining the typographic choices that had helped brand it … including a starring role for Replica.


iPad edition
Alongside, the print edition a fully interactive iPad version of each title was developed which required reinterpreting static layouts as multi-faceted, sometimes animated versions. I had experienced this whilst at Wallpaper and Wired magazine in the U.K. where both titles had pulled together a team of emerging designers tasked with converting issues into interactive editions.
The folly of magazines flipping to iPad would soon prove hollow considering the time and resource employed in navigating the, often incomplete, software seemingly required. Plus readers really just wanted to read. Additional interactivity and tricksy navigation just got in the way. The AR iPad edition came with a hefty price tag too (much more than the print edition) which didn't help either. Still, revisiting static layouts in order to animate them produced some interesting results, unfortunately unreplicatable due to the locked-up nature of app distribution networks.