Publication Design 👇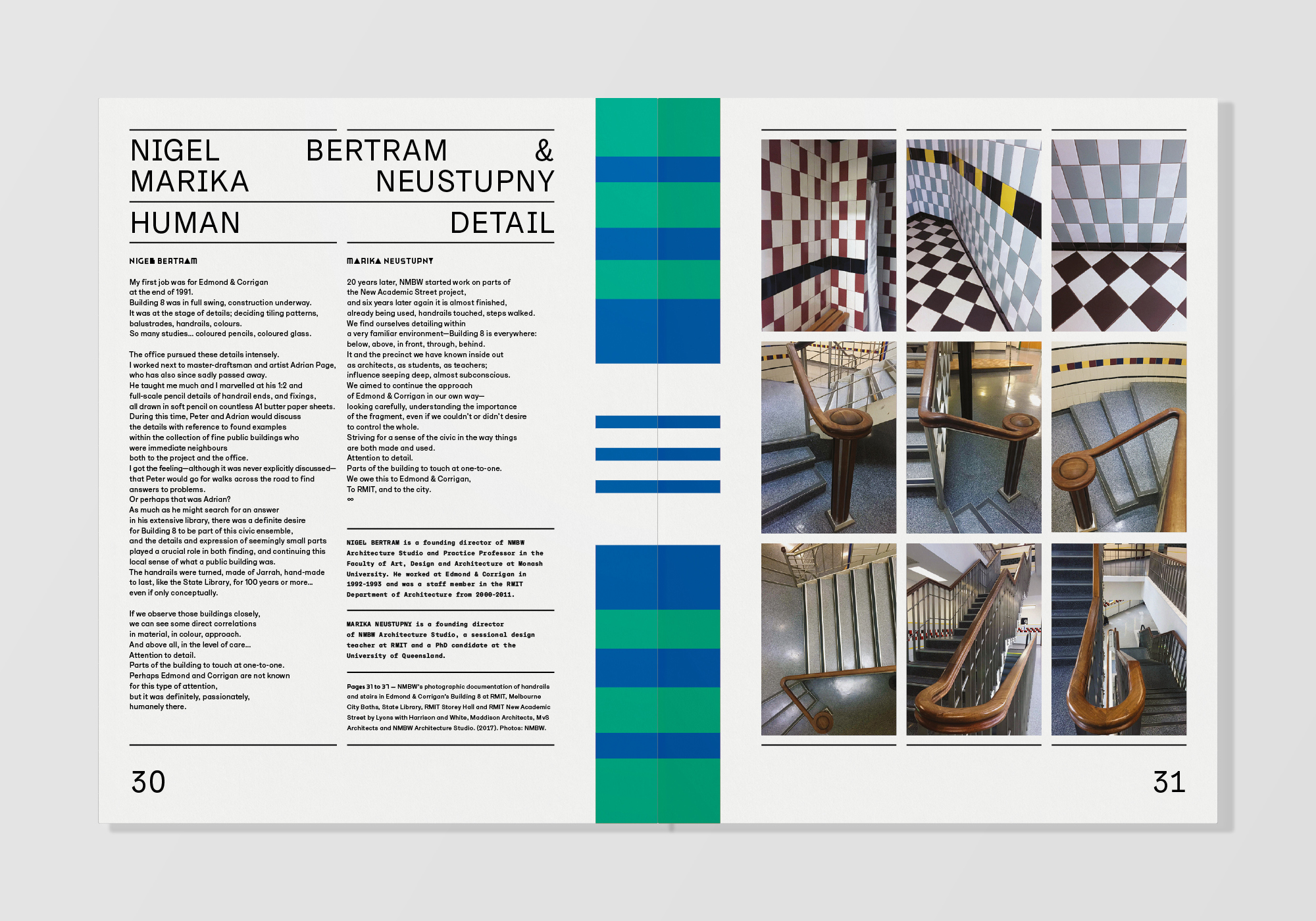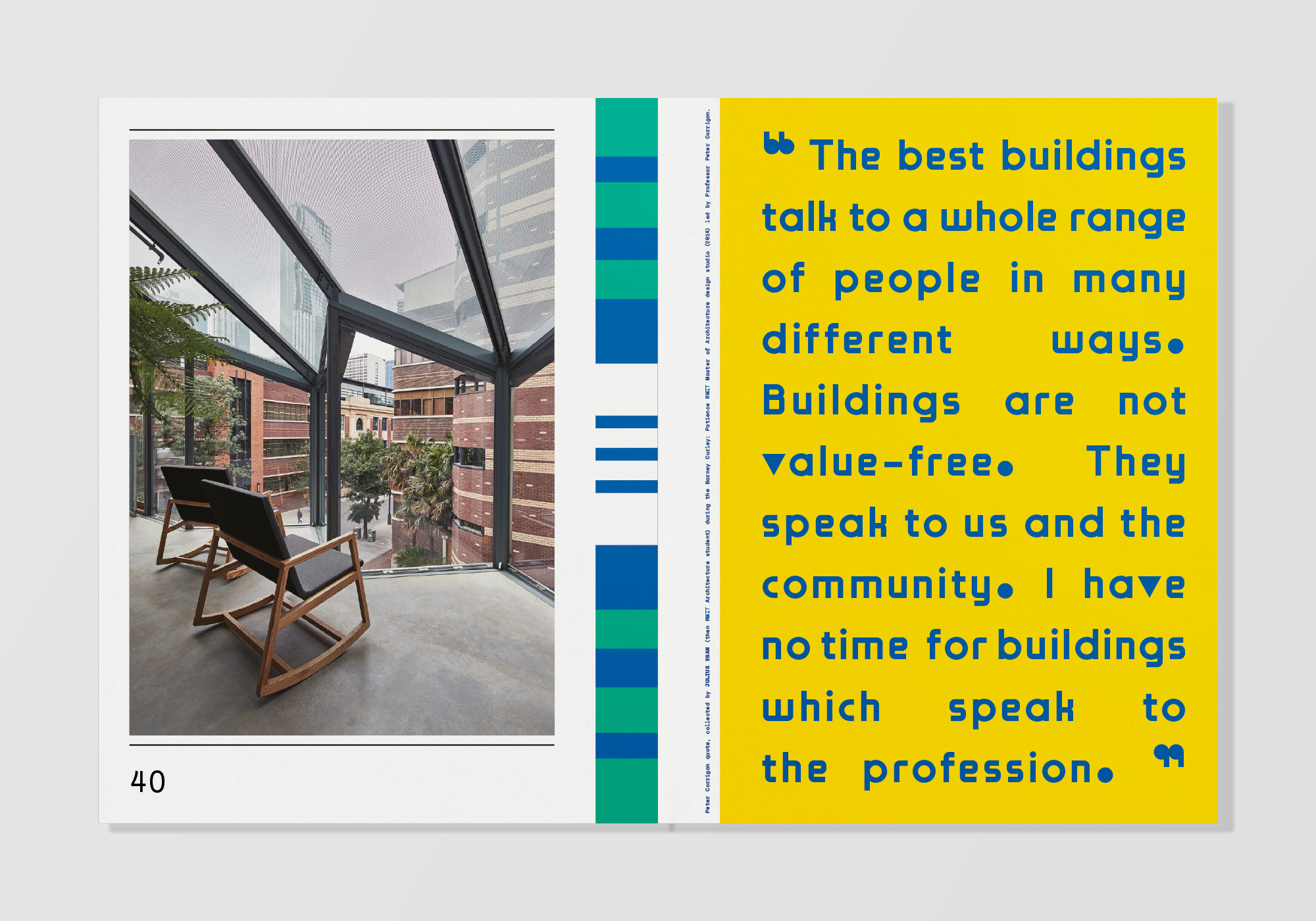 Influence: Edmond & Corrigan + Peter Corrigan
Uro Publications (publisher) / 2019 (year) / Vivian Mitsogianni, Patrick Macasaet (editors) / Hardcover with short wrap on uncoated paper stocks. Whote foil deboss on cover under wrap (specification) / 225 mm wide × 290 mm high (size) / 202 (pages)
---
Influence: Edmond & Corrigan + Peter Corrigan, under the steady guidance of editors Vivian Mitsogianni, Patrick Macasaet, pays tribute to an architect and educator who, together with his partner Maggie Edmond, left an indelible mark on the visual landscape of Australian design. A key challenge in producing the publication came in translating an original series of live presentations into a printed, bound and 'archive-able' edition. ¶ The design approach also sought to pay similar tribute to the sensibility of Edmond & Corrigan by utilising motifs contained within the rich variety of drawings, imagery and photographs (many rarely seen) sourced from the RMIT Design Archives and generously supplied by photographer, John Gollings. For instance, graphic tiling on the pillars inside RMIT Building 8 were redrawn and used within page gutters to aid readers in navigating between contributors, much as these designs would have helped visitors locate themselves within the physical building. ¶ A strictly geometric display typeface was developed in parallel with the book that responded to the playful yet rigorously constructed architectural details featured within. The completed design also included typographic illustration by emerging designer Nina Gibbes.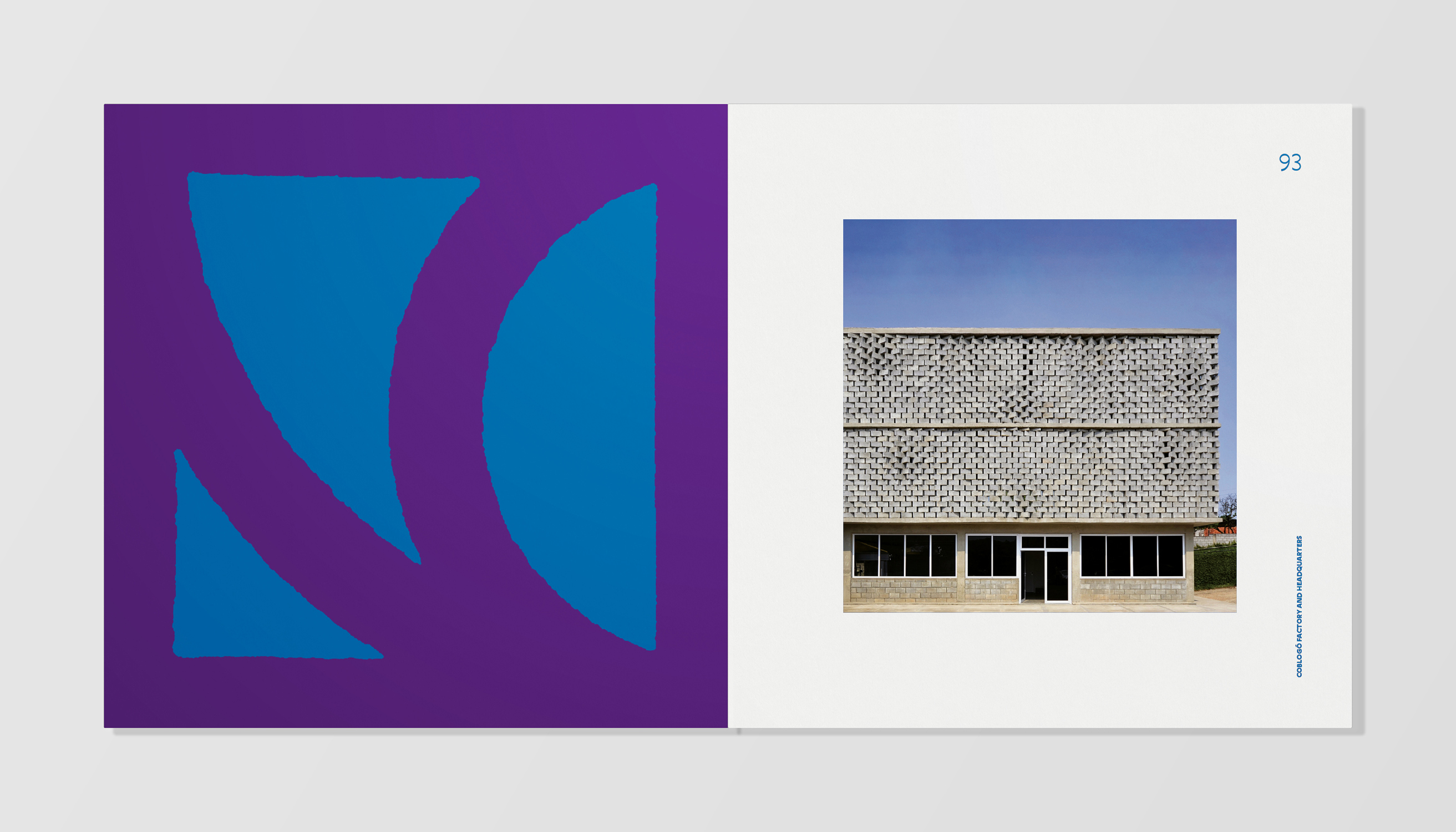 The Breeze Block Book
Uro Publications (publisher) / 2019 (year) / Sam Marshall, Maitiú Ward (editors) / Hardcover with heavy stock dividers and foil deboss on cover (specification) / 300 mm wide × 300 mm high (size) / 184 (pages)
---
The underlying layout for The Breeze Block Book is an attempt to forego the usual design constraints and directly reference the large, square, block-y forms contained within. To this effect, a loose super scale grid was employed within a rigidly square format. Square block of text and appropriately proportioned images were then 'cemented' together with the page mimicking the walls and screens featured within. Added to this mesh was a series of illustrations selected from a wide variety of found and supplied references (particularly those of editor Sam Marshall and his inspirational @breezeblockhead Instagram account). ¶ Large-scale, starkly geometric forms had their rough textural edges emphasised and enlarged to near actual size, or reduced down in order to form patterns on section dividers. These dividers were then treated as a series in their own right and given a screen-printed, poster-like feel through the use of a saturated colour palette and thick course paper stock.
The Sydney School
Uro Publications (publisher) / 2018 (year published) / Andrew Leach, Lee Stickells (editors) / Softcover & eBook (formats) / 193pp (pages) / 216 x 280 mm (dimensions)
---
The Sydney School of Architecture, Design and Planning is part of the University of Sydney and has the distinction of being one of the first architecture schools to be established in Australia. 'The Sydney School' book further cannonises the school as part of their 100 year anniversary program. ¶ A relatively quiet design approach with minimal typefaces, colours and design motifs employed in order to give the publication an appropriately formal tone that stood outside of any specific timeframe. The only nod to current design trends being quote pages with large text rotated 90 degrees, an element used to still keep the over-all pace lively without detracting from the contents of the essays it supported. ¶ Working closely with Uro and the editors, an index of interesting and pertinant terms and words was created and used as a cover wrap as both a useful and pleasingly textural motif to enhance the publication's outwards facing identity. An eBook version was also developed.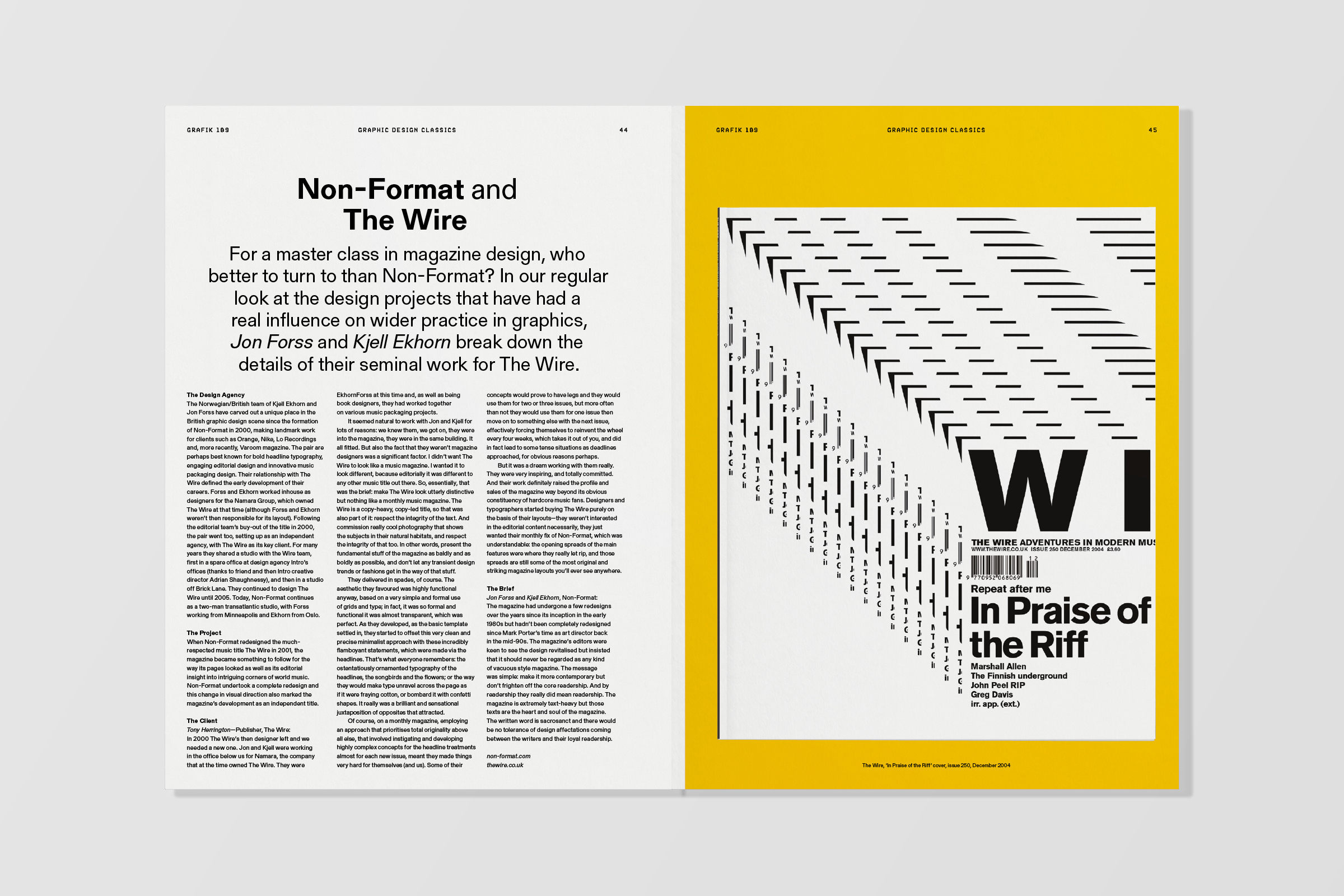 Grafik
Woodbridge & Rees (producers) / Caroline Roberts, Angharad Lewis (editors) / 6 (issues per year) / 2010–2011 (duration) / 130 (average pages per issue) / 230 mm w x310 mm h (dimensions)
---
From 2010 to 2011 Michael was lead creative for Grafik magazine. This included the design of 7 issues (from G187 to G193) of the Graphic Design title as well as promotional material (such as posters for events) and overall branding. ¶ A short film on the histoiry of the magazine was also made and shown as part of an Editorial Design Organisation event including interviews with editors Caroline Roberts and Angharad Lewis. ¶ Designing for designers sounds like it should be easy, and in some cases there were assumptions that could be made that did not apply to publications in categories outside of your chosen profession, and therefore required little questioning. What the original design approach for the title ultimately achieved was to reflect a kind of restlessness that was evident at the time. Shortly afterwards graphic design would see a dramatic shift in styles and approaches that continues today. ¶ To address the transitionory nature of the original editorial design, the images shown here are recently redesigned versions of the original pages, produced as a personal side project under the banner 'The Grafik Archive'.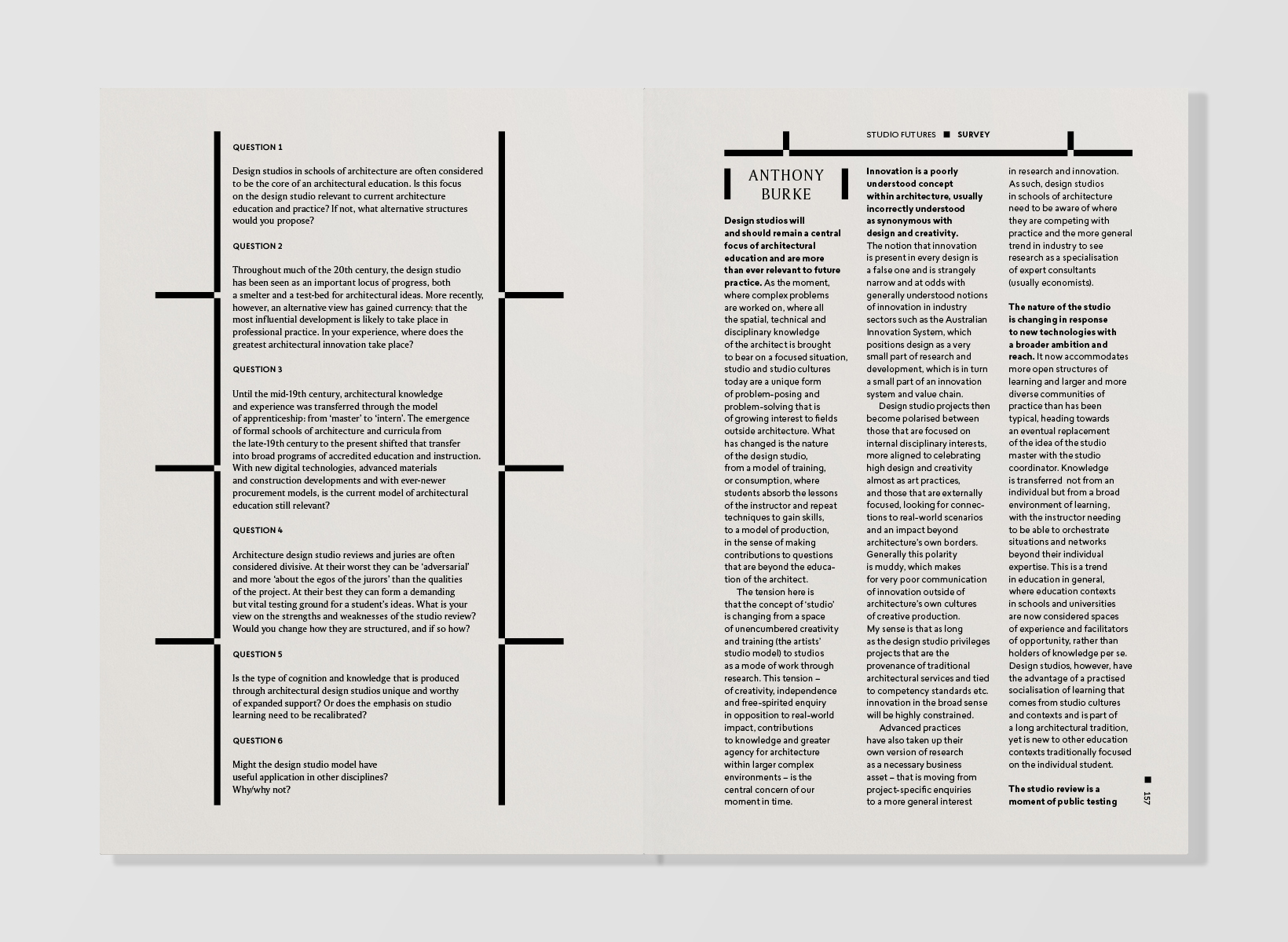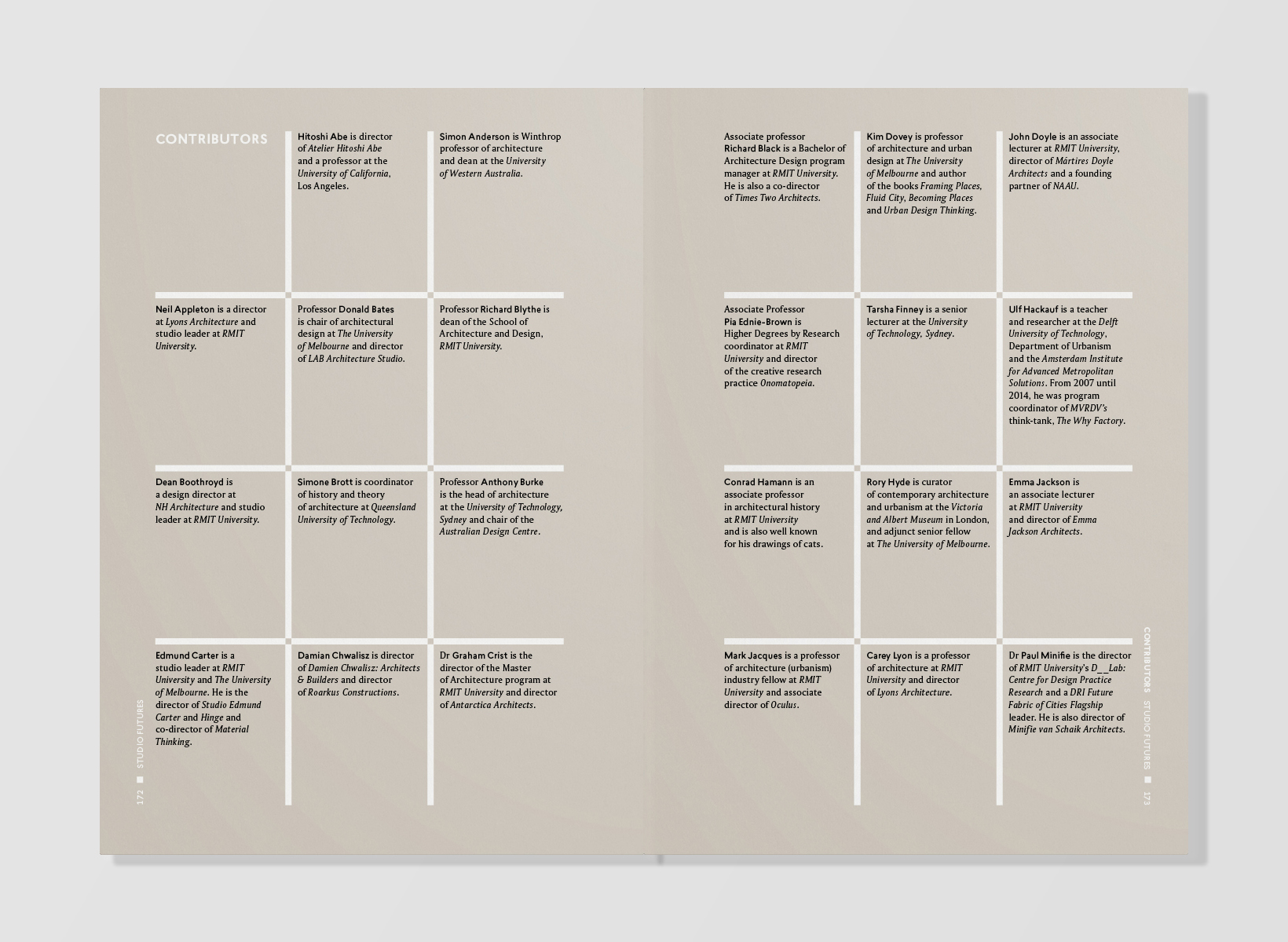 Studio Futures
Uro Publications (publisher) / 2015 (year published) / Donald Bates, Vivian Mitsogianni, Diego Ramírez-Lovering (editors) / Paperback (format) / 176 (pages) / 175mm x 245mm (dimensions)
---
Studio Futures is a publication produced by the school of Architecture School at RMIT University that examines contemporary practices in design pedegogy focusing on architecture, with a particular focus on the 'studio model'. It includes a vast array of case studies and critical essays that devle into innovative ideas and models for current and future studio models. ¶ The design challenge became how to knit a variety of editorial and writing styles into one cohesive package that still allowed space for individual contributions to breathe. A rigid grid structure and typographic style was employed but then allowed to be traversed in numerous ways as readers progressed through the publication.