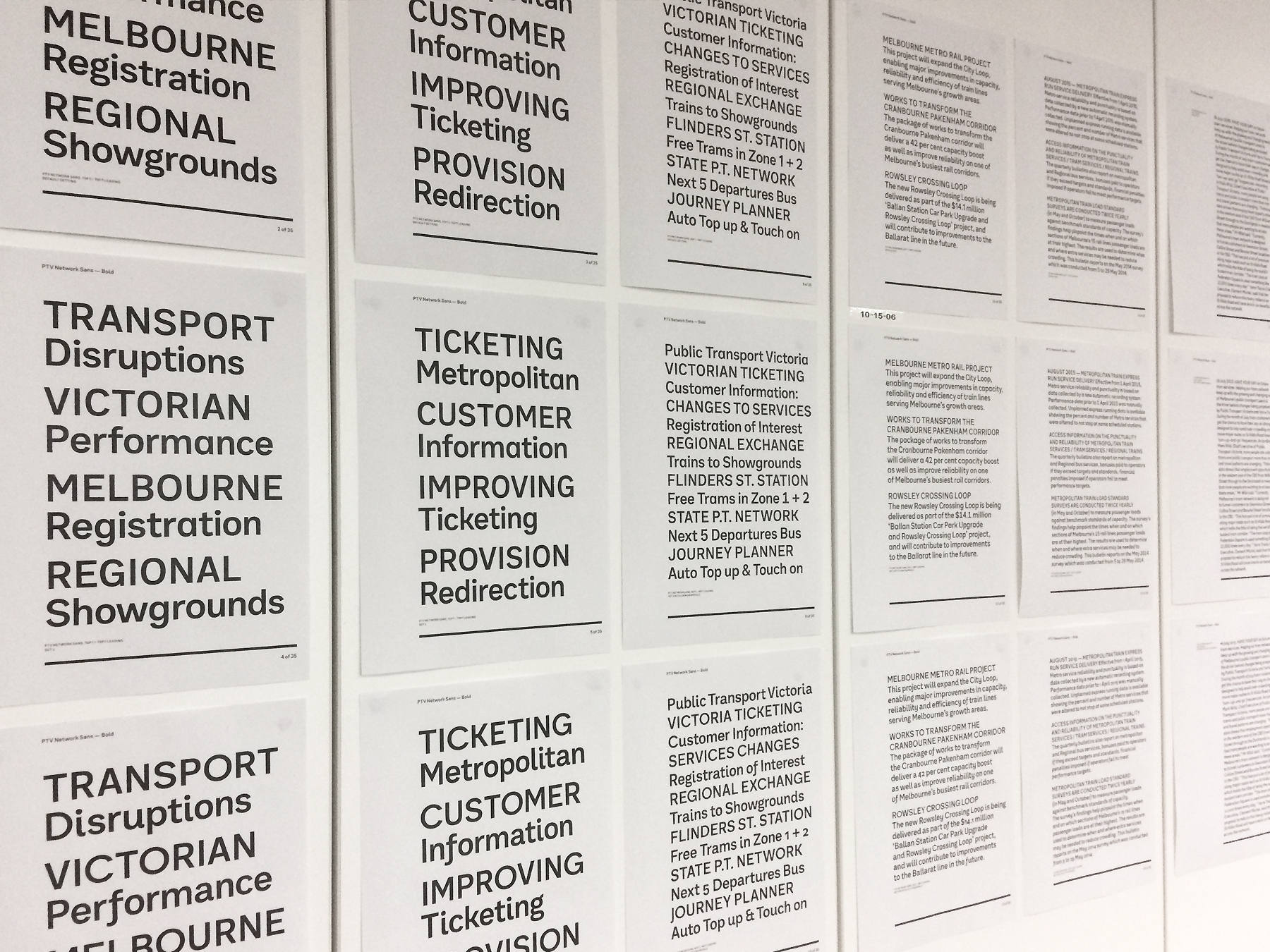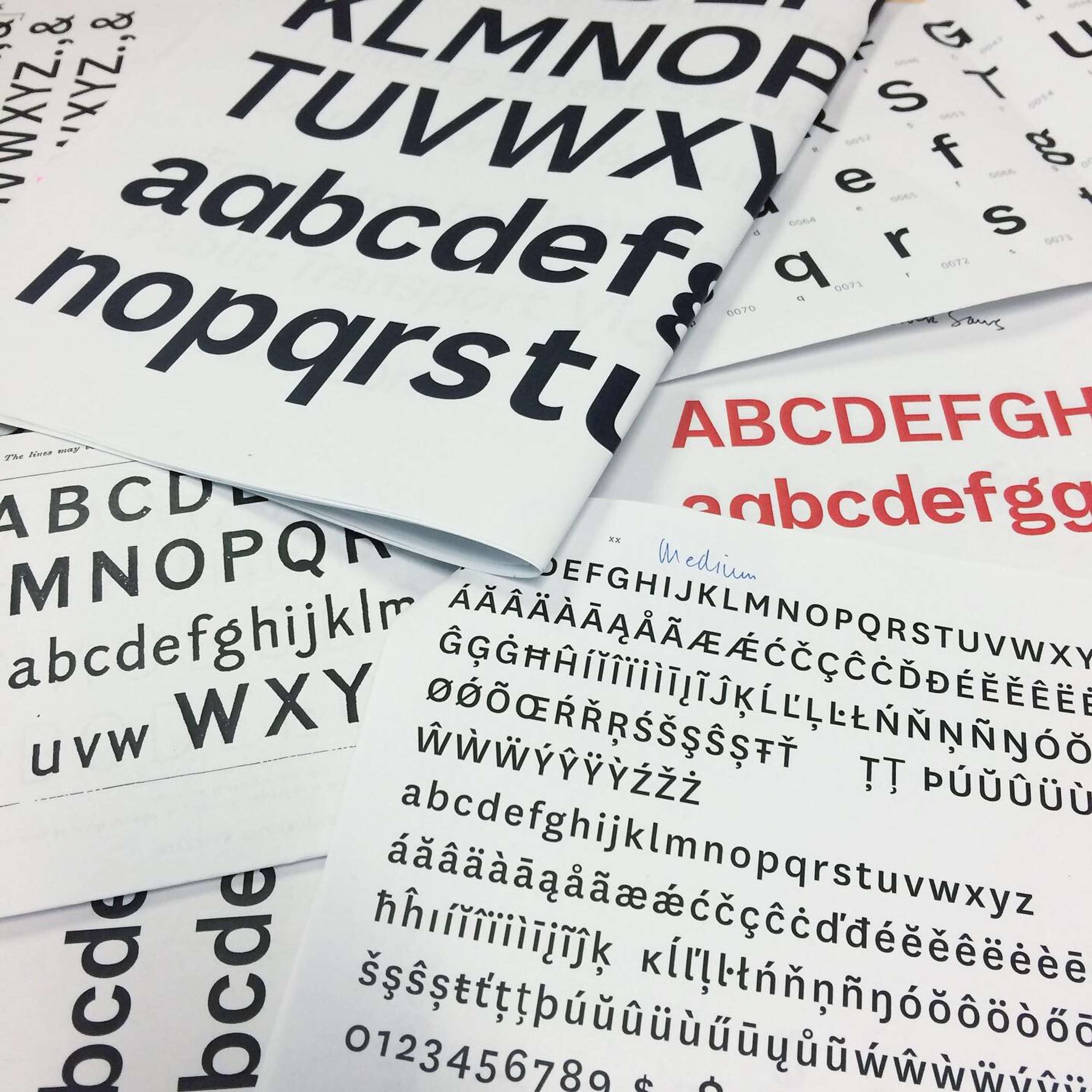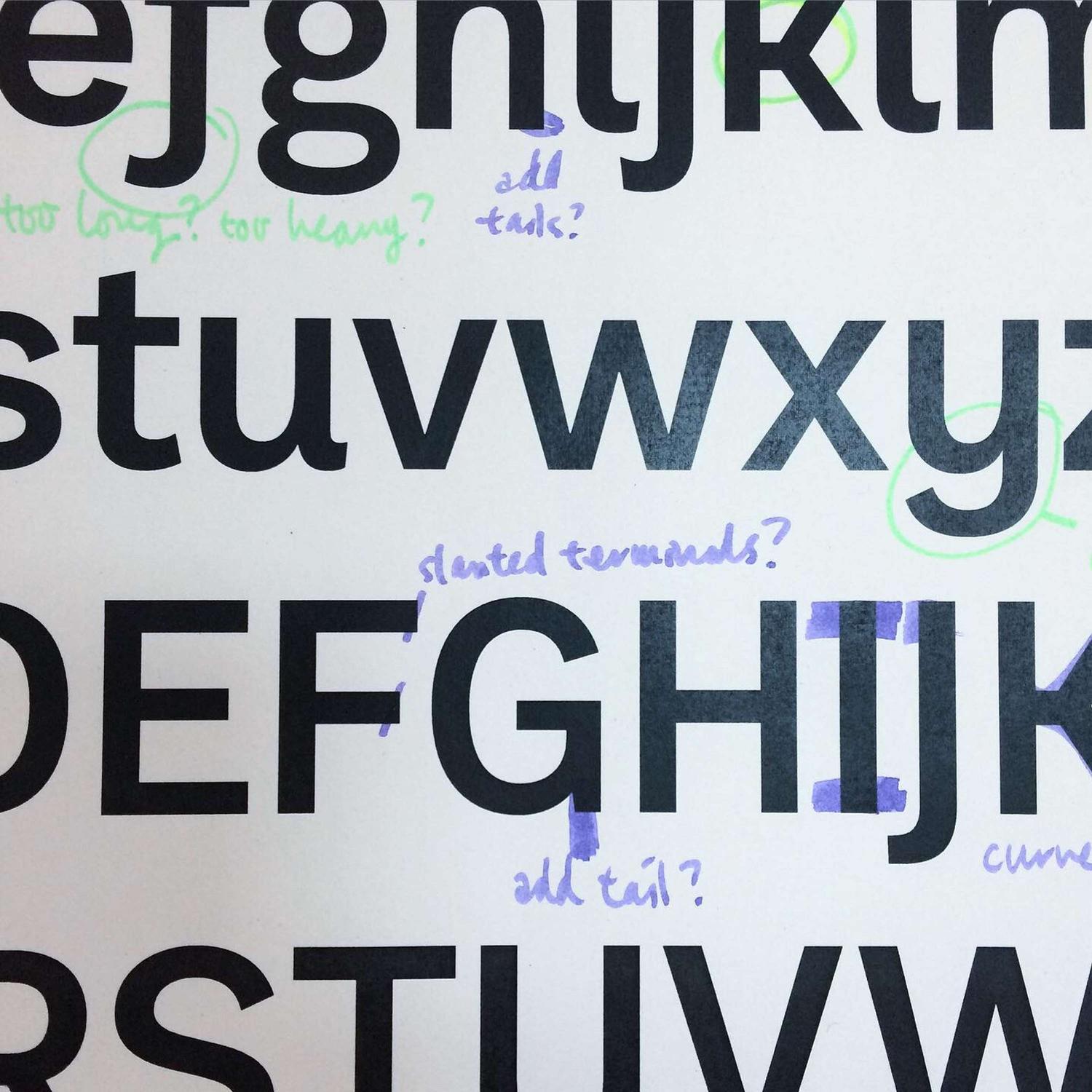 ---
Network Sans
︎ Visit the Project archive here
Network Sans was produced as part of an ambitious project that put typography at the centre of public transport and city branding. This quietly radical type family was developed over the course of a year, alongside several similarly ambitious branding projects. The project involved a wide range of stake holders from across the public transport and city wayfinding provisions within the city and state during its creation.
Primarily, it was produced by the inhouse design department at Public Transport Victoria in Melbourne, Australia. Responsibility for the design, build and supply fell to your humble author although minimal design and drawings were produced in collaboration with lead creative Dean Butler, who also provided design direction for this, and a range of projects at PTV. Over the course of Network Sans' development fellow members of the PTV inhouse design team were encouraged to provide input, comments and suggestions.
Printed specimens were regularly posted up within the design studio space at PTV upon which team members (and, indeed, anyone from associated departments who were walking past) were invited to add notes, make sketches and question details. The goal being to create a sense of ownership within PTV that would filter out into wider communities, embracing a collection of letterforms that could only have been produced within the state of Victoria.
---
Why produce a typeface inhouse?
Commissioning processes formed by governments, and similar public facing entities, that are hyper conscience of their visibility in facing of taxpayers, often come with many caveats. Once we decided we needed a typeface family unique to PTV, we had to address the stipulation that our typeface design should be sourced locally or nationally. No expensive international commissions.
Our initial research phase mostly confirmed what we already knew. As opposed to places with a linage of custom designed type families produced for public entities and businesses (think Johnston, the typeface used throughout London's Underground or designer, the City fo London's use of Albertus or Erik Spiekermann's work for Germany's transport system, to name but a few) there were almost no custom typeface projects produced locally or nationally and therefore (or because of) a scarcity of typeface designers we could reach out to.
We did reach out to a select group of typeface designers and type design houses overseas to see if there was anyway to be able to work together given the scarcity of local resource and the caveats attached to little avail. Along the way, our research inadvertently highlighted the fact that there was the capability for us to design a set of letterforms that could become a type family. Whilst negotiating with select type designers we started to build our own character set. This set grew and grew, becoming more polished as time went on until a decision was made to take the project—design, build, mastering and licensing—inhouse in its entirety. In terms of budgetary constraints this was a huge win. I split my time between looking after our typeface design and a host of collaborative branding projects, many of which we were able to test our type designs within.
---
Mastering is a lot of work.
Producing a typeface can be relatively straight forward in terms of software and time constraints. Generally, letterforms, once drawn, are converted into vectors and then dropped, part-by-part, into a font creation program which then outputs the collected letterforms into a single file (or a family of files if you have a range of weights and/or styles i.e. Bolds, Italics etc.). To a working graphic designer this process makes reasonable sense.
The hurdle we had to overcome was producing a hard-wearing typeface that appeared polished and 'correct' across a broad spectrum of applications and sizes—from 5pt timetable text filling up an A1 sized sheet to LED displays of widely varying pixel quality on station platforms to large scale billboard, tram wraps and event signage and more. The naive assumption that getting our type family to standard ready to distribute to designers (both internal and externally) wouldn't take as long as the design of the letterforms, was quickly dispelled once the forms were approved.
Again, we searched for a local or national resource that could help us expedite this stage of the process. At one stage we reached out to an external typeface designer based across state borders (who specialised in letter drawing rather than font development) to help expand our range of weights. This resulted in only a handful of letterforms that proved of real use within the completed typeface family and many of the previously unique features that had been developed over time, and with input from the PTV team, being tweaked and repurposed for commissioned projects outside of (and without permission from) PTV (who continue to hold the exclusive licence to Network Sans, I know because I wrote the EULA for it).
Eventually, this aspect—the mastering, as it is widely known as in recent times—was also taken in house. This was an intense period where I was freelancing for the PTV team from my home studio solely on Network Sans in a race to meet the penultimate deadline for the project.
---
Licensing is work too.
I mentioned a EULA earlier. For the unfamiliar this stands for End User Licence Agreement. EULAs have become a common attachment to distributed typefaces in this digital era. EULAs are extensive legal documents that describe details of the ownership of a particular typeface within a font (font being the legal definition of the type of software that contains a set of letterforms). EULAs protect the copyright of a typeface, maintaining the identity of any entity it seeks to represent.
I am not a lawyer. I'm a designer. Still, there was no precedent for the protecting of a unique typeface design within PTV (or, indeed, any other local government department as far as I could tell) so research was required into best practice for describing a typeface in order to protect it. This was then checked by internal legal teams who found the wording particularly fascinating. My point being that even the EULA was a very necessary project in itself and something none of us anticipated having to spend time on. Another learning curve.
---
Where next?
Along the course of this project, Network Sans provided many useful lessons in the implementation of a typography-led identity and the creation of the sort of robust, versatile and suitable set of letterforms that would support this. Yet, there were aspects that deserved more attention than we were able to give them at the time, particularly in regards to the aforementioned mastering.
The rapid growth of a community of local typeface designers, not only highly skilled at drawing unique letterforms, but also in the detailed production of finished font families (supported, to a large extent, by the Communication Design programme at RMIT University) has been inspiring and encouraging. My wish being that this cohort had been available when we initially embarked on this comprehensive project.
With this in mind a fresh redraw of Network Sans has been made—starting from scratch—baring in mind the many lessons learnt from initial development and having lived with the variety of applications it has appeared within throughout the city (and statewide).
This freshly redrawn and rebuilt typeface family also began life within a 'variable' working space. This means lightest and heaviest weights are drawn first (as opposed to Network Sans which started with one weight which had to be extrapolated out). This new set of letterforms initially includes less characters than the one it is based on but much polish and specific attention to detail has been applied. Also new technologies, techniques and additional research, previously unavailable, has further informed its build.
As similar typefaces have emerged since Network Sans first release, this new family (currently named 'Transit') also seeks to further substantiate the unique properties of this set of letterforms which may appear as readily established but were actually the result of many months work and the very welcome input and direction from many designers and stake holders.

---
Notes:
Much of the work of the PTV Design Team often flies under the radar for good reason, although conversation provoked within the public sphere does emerge from time to time (for this I personally thank the many transport enthusiasts who unknowing provided much of the feedback that helped propel forward many of the unprecedented—locally at least—versions we worked on. For a slight glimpse into the hard work and dedication that continues behind the scenes at PTV (and similar inhouse teams) see this article on seat fabric designs (another project I contributed to): ︎︎︎
theage.com.au
---
Status: Completed. Under exclusive license to Public Transport Victoria.